Follow this blog
Rafael Cadenas, Barquisimeto, Venezuela, 1930 
Rafael Cadenas
Names Your name is wet leaf, lonely apartment night, vicissitude. bell, softness and lust, innocence, smoothness of the skin, full moon, crisis, oh my cave, my ring of Saturn, my thousand-petalled lotus, Euphrates and Tigris, sea urchin, garland, Janus, vessel, turtledove, S. and clover, oviparous, grapes, fleece and petrification; you could be called … but your name is bed, sink,...
Ars Poetica May every word carry what it says. May it be like the tremor that holds it. May it remain like a heartbeat. I will not utter adorned falsehood or ink dubiously or add brightness to what is. This makes me hear myself. But we are here to tell the truth. Let us be real. I want frightening accuracies. I shudder when I think I fake myself. I must carry the weight of my words....
var flashvars =...
Entrevista a Saúl Yurkievich, el albacea de Julio... →
"El escribía como improvisando jazz"… "No estaba sujeto a una disciplina. Corregía poco, todo le salí casi naturalmente. Para él, era como un juego fácil y divertido". Así recuerda a su amigo el hombre a quien, por testamento, Cortázar le dio poder sobre toda su obra inédita….
"Writing is like jazz. It can be learned, but it can't be taught."
– Paul Desmond via MusicThoughts (via theroomaboveher)
Sometimes the sky is too bright
misifuca: Sometimes the sky's too bright, Or has too many clouds or birds, And far away's too sharp a sun To nourish thinking of him. Why is my hand too blunt To cut in front of me My horrid images for me, Of over-fruitful smiles, The weightless touching of the lip I wish to know I cannot lift, but can, The creature with the angel's face Who tells me hurt, And sees my body go Down into misery?...
""I have been her kind" "
Anne Sexton
He salido al mundo, una bruja poseída, rondando el aire negro, más valiente en la noche; soñando el mal, he sobrevolado las casas exiguas, de luz en luz: pobre solitaria, con mis doce dedos, loca. Una mujer así no es una mujer, lo sé. Yo he sido una de ésas. He encontrado las tibias cuevas del bosque, las he llenado de sartenes, tallas, estantes, armarios, sedas, incontables tesoros;...
medusas&aguamala →
A finales de agosto, un artículo de este mismo blog relataba la situación de alarma ante la inminente invasión de colonias masivas de medusas… http://www.abc.es/20091105/ciencia-tecnologia-/medusas-gigantes-hunden-pesquero-200911051243.html entia non sunt multiplicanda praeter necessitatem
W.B.Yeats
El Segundo Advenimiento Girando y girando en creciente espiral El halcón no escucha al halconero; Todo se derrumba; el eje no resiste; La anarquía se adueña del mundo, La marea sangrienta se desborda, y en todas partes Se ahoga la ceremonia de la inocencia; Los mejores carecen de toda convicción, mientras los peores Se colman de vehemente ímpetu. Ciertamente alguna revelación se acerca;...
Louise Bogan
Medusa Llegué a la casa, en una cueva de árboles, Frente a un cielo absoluto. Todo se movía, — colgaba una campana, presta a sonar, El sol y su reflejo pasaron rodando. Luego los ojos descubiertos estaban ante mí Y el siseo del cabello, Suspendido en la ventana, visible a través de la puerta. Los ojos tiesos y calvos, las sierpes de la frente Formadas en el aire. Ahora,...
joanna newsom - clam,crab,cockle,cowrie
It lieth, gazing on the midnight sky, Upon the cloudy mountain-peak supine; Below, far lands are seen tremblingly; Its horror and its beauty are divine. Upon its lips and eyelids seems to lie Loveliness like a shadow, from which shine, Fiery and lurid, struggling underneath, The agonies of anguish and of death. Percy Bysshe Shelley, On the Medusa
Louise Glück
Confesión Decir que no siento temor- no sería verdad. Temo a la enfermedad, a la humillación. Como cualquiera, tengo mis sueños. Pero he aprendido a ocultarlos, para protegerme de la satisfacción; toda felicidad atrae la ira de las Parcas. Son hermanas, salvajes- al final, no poseen ninguna emoción sino la envidia. Louise Glück: Poesía selecta. Versión de Beverly Pérez Rego ...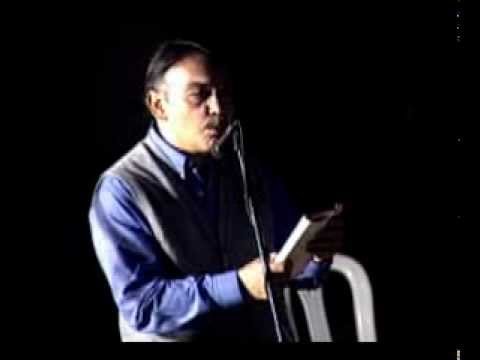 Eugenio Montejo
My Love My love walks this street in another body, I feel her steps under the rain, walking, dreaming, as within me long ago… There are echoes of my voice in her whispers, I recognize them. She is now at an age that once was mine, a shining lamp when we meet. ...
egberto gismonti - ensaio
"Ask us no more of all the things ye heard; We may not speak of them, they..."
– Ezra Pound, The Fault of It (via blogut)
Gregory Corso
Mi madre odia el mar, mi mar especialmente, le advertí que no fuera; era todo lo que podía hacer; dos años más tarde el mar la engulló. Sobre la orilla encontré un alimento extraño pero hermoso; Pregunté al mar si podía comerlo, y el mar dijo que sí. - Oh, mar, ¿qué pez es éste tan tierno y dulce? Los pies de vuestra madre, respondió. :::::: Anoche conduje Ayer por la...
Bob Dylan, 1965
highway 61 revisited Dios dijo a Abraham, "Mata un hijo por mí." Abe dijo, "Hombre, no hablas en serio." Dios dijo, "Sí." Abe dice, "¿Qué?" Dios dijo, "Haz lo que quieras Abe, pero la próxima vez que me veas más vale que salgas corriendo" Entonces Abe dijo, "¿Dónde quieres que lo mate?" Dios dijo, "Allá, en la Autopista 61". Oh God said to Abraham, "Kill me a son" Abe...
Interlude No.1 from Nina. on Vimeo.
Sam Shepard
Motel Chronicles, 1982 3:30 a.m. ¿es un gallo o una mujer que grita a lo lejos? ¿está negro el cielo o a punto de ponerse azul oscuro? ¿es ésta una habitación de motel o la casa de alguien? ¿mi cuerpo está vivo o muerto? ¿estoy en Texas o en Berlín Occidental? y de todos modos, ¿qué hora es? ¿hay algún pensamiento que sea mi aliado? ruego se suspenda todo pensar ruptura...
"Through the pressure of the international community and the work of NGOs and..."
– Charm Tong, Enemy of the State, Trocaire, http://trocaire.org/news/2006/11/07/enemy-state-burmese-human-rights-activist-charm-tong